2.5.17 (Official Update)
This entire website has been reprogrammed to fix almost all the errors that have popped up over the years of HTML changes over the past decade. All missing items should be fixed, every page should be fully centered with a full white background and no image-tearing, and most relevant information has been updated as best as possible. It should also be noted that Jason kraley has not had a working video camera to personally experiment with since his Canon MiniDV camera "died" several years ago...


12.5.11 (Official Update)
OFFICIAL CD RELEASE

The latest album "Invested" involving Jason Kraley, Kraley Productions and Still Inertia is best discovered at:

Still Inertia's new album "Invested"...


11.19.11 (Official Remastered Release)



October 7, 2006 was the official release date of the second music video ever for Still Inertia. It is an exclusively first new music video for a song called "Closer To Me" from the new album entitled "Invested". After 1,200+ viewings, this video has been upgraded to a better viewing quality and fulfilled by the new album's mastered stereo version (by Mike Giffin in Los Angeles, CA) in stereo for the upcoming release of "Invested" on November 29, 2011.

Using footage spanning over 2 years in Cleveland, Ohio, the final lyrical pieces were shot in a day in Philadelphia, PA. Massive amounts of footage taken in Philadelphia were crunched down during pre-production to workable time-elapsed footage. This video explores the rather ever-changing emotional and mental health of someone who needs to get closer toward their own "within" before they are too far gone... It also demonstrates the continually evolving exploration of the creative boundaries of Still Inertia from its recent years.

This signed DVD single features the full quality version (29.97 frames per second) as opposed to the 15 fps smaller and compressed version in QuickTime format for viewing across the Internet. Fully edited on Final Cut Pro 4.5 HD and finalized with complete menu design and integration on DVD Studio Pro 3. Total editing time: 3 weeks.

More info: www.stillinertia.com
Likes: facebook.com/stillinertia

AVAILABLE ON DVD: (More details...)
AVAILABLE FOR VIEWING ONLINE: (QuickTime, 17Mb)


3.16.10 (Successful Exhibition)
A message from Jason Kraley: "Many thanks to the record-breaking numbers of people (friends and strangers alike) who attended the 5th annual Collaborative Art Show ("Bear Art") at The Bike Stop March 12-13, 2010. Though numbers are not to my knowledge, suffice it to say, many children will be going to Camp Brightfeather, a summer camp for children with HIV and children whose families are affected by HIV thanks to all of you! Kind personal thanks go out to Veronica Bound (curator and organizer extraordinaire), The Liberty Bears of Philadelphia (the sponsors of this event), the owners and staff of The Bike Stop (who welcomed the event), my friends who were able to attend (sorry for the rain, but at least it wasn't 70 inches of snow, eh?), and the new owners who purchased three of my paintings. I'm very grateful for everyone's support, comments, observations and newfound acquaintences. Have a safe St. Patrick's Day week!"

As for the "Perceptions" video art installation: it is available for immediate installation and projection at any gallery who can accomodate the ability and space to projection-display this audio-visual piece. It also exists uniquely as a one-of-a-kind framed video screen (with built in stereo speakers), as well as the remainding copies of the 50 limited-edition (signed and numbered) DVDs.

Background info on the video art installation:
"Perceptions" is a piece of framed visual art (running 16 minutes, continuously) meant to examine our perceptions of people, places and various environments. This piece features Michael Gaines, Lee Ann Etzold (Barrymore Award-winning actress), Koral Korrupt, Christine Siarka, Matheau David Moore and Jason Kraley with lighting specialist: Stephen Keever. This is Jason Kraley's first fully produced piece of "visual art" (not meant as a movie with a specific plot but rather an intent of artistic expression through visual media and interpretation). The atmospheric soundscape design accompanying this visual piece was produced by Jason Popejoy, Roto Visage, and Still Inertia. The signed DVDs (clocking in at 49 minutes) contain an additional introduction by the artist, an accompanying 20-minute presentation of his photographic portfolio spanning 13 years (which accompanied the original public "Perceptions Event" organized by Michael Casey in April 2007), and, of course, includes the main "Perceptions" visual art piece - with options to play it once (with ending credits) or in "exhibit mode" which loops identically as you would see it repeating in its visual presentation, framed, on exhibit. The framed version (the first completed work from Kraley Productions to be displayed in a framed digital/video context for the public) will be on display and for sale. The DVD's photographic presentation also features backing music by Mike Williams and Still Inertia. (This DVD is for NTSC televisions/CRT displays only, not viewable on European/PAL devices.)


2.22.09 (Update: Designed CD Release 2007)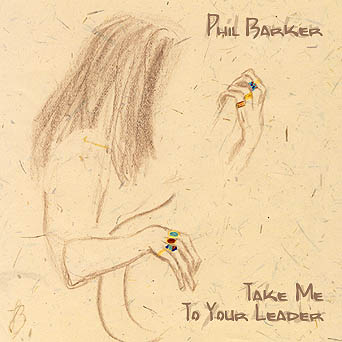 In 2007, Kraley Productions had the wonderful honor and pleasure of designing the new CD by Cleveland musician Phil Barker (original member of the Ohio band "Flat Bush") entitled "Take Me To Your Leader". The CD features a guest appearance by Still Inertia (the musical output of Jason Kraley's brain) and is a solely instrumental album 65 minutes in length. The cost is $12 (plus 2-3 USPS Priority shipping charges). Again, Jason Kraley/Still Inertia and Kraley Productions are not the publishers of this CD, but is merely helping connect orders from people to Phil Barker's music via the Internet. The album is published by Green Fiddler Publishing (BMI). Kraley Productions is simply happy to help spread the word of globally local talent.

CLICK HERE to go directly to the ordering page. CDs are $12 (plus shipping).


7.15.08 (Projects)
Kraley Productions has been working with DVD production for Theatre Nohgaku (www.theatrenohgaku.org) for Pine Barrens, Video Design and DVD archival for Suburban Love Songs (Karen Getz and 1812 Productions - www.1812productions.org).


9.21.07 (Successful Film Debut)


FILM ID: CR-V10

The last night of the 2007 Live Arts/Philly Fringe Festival's Late Night Cabaret (September 15, 2007) projected the premiere of the second annual top secret film Kraley Productions was graciously asked to create in front of the second largest audience ever for a Kraley Productions film. Directed and edited by Jason Kraley, this year the film took on a "mockumentary" version of NBC's (and BBC's) show entitled "The Office". The video is set in the new (and newly high-tech) Live Arts Box Office in Philadelphia. Starring Komal Kapoor, Amanda Grove, Lori Aghazarian, Becca Bernstein, Dom Chacon, Maya Choldin, Mike Dees, Jared Delaney, Jen Dillon, Karen DiLossi, Amanda Ditsky, Casey Gallagher, Tom Shotkin, Kate Tejada, and Jay Wahl, this film was shot in 7 hours and edited over the course of 5 exhaustive days. The ensemble of staff workers, actors and actresses, 2 cameras, 2 wireless microphones, and great improvisational action based on simple ideas written int he course of the previous week made this piece come alive and had the crowd unexpectedly laughing throughout a rather lengthy "spoken word" piece. This piece was musically saved by Toshio Mana and Gooding and edited on Final Cut Pro 4.5 HD. Much thanks to Stephen Keever (Executive Producer and Second Camera Operator/Super-Hero) and Maya Choldin (my first officially degreed Assistant Director). The piece runs 14 minutes, plus an additional 4 for credits offering a special bonus of "outtakes" and memorable clips during the "on set" shoot, filmed and edited between September 9-15. This DVD will be ready for online purchase in the near future.


4.21.07 (Successful Event)
Thank you to all those who made it out to see the first public showing of Still Inertia's "Closer To Me" video at Joe's Coffee in Philadelphia. For those of you who inquired about the new album by Still Inertia, feel free to visit www.stillinertia.com for continual updates. Thank you very much to Joe's Coffee.


4.15.07 (Successful Event)


Kraley Productions is VERY PROUD to report a very succesful event exhibiting Jason Kraley's first video art installation, entitled "Perceptions" for one night only on April 13. Thank you to EVERYONE who showed up and saw The Bike Stop of Philadelphia transformed into something never thought possible. Mega thanks to Michael Casey and The Liberty Bears of Philadelphia for having faith in the work produced by Kraley Productions.

"Perceptions" was a one night only multi-media fusion of Video Art & Photography by Jason Kraley, Environmental Lighting by Jason Coffman, Projection by Stephen Keever, Music by DJ Mike Trombley and Food by Village Coffee. It was established to celebrate and explore your "Perceptions" while embracing all lifestyles.

This piece's ID is CR-V9 in the videographic catalog of films produced by Kraley Productions. It is now in the process of having ambient atmospheric sound and music by Still Inertia added to the piece for release to galleries interested in showing this as a video installation/exhibit, and will eventually have a proper intro and ending credits for release to the public for private purchase in 2008.


3.2.07 (Update)
Aside from the December 2006 release of a private DVD (ID#: CR-V8) entitled, "Tempus Fugit", Kraley Productions is currently working on an upcoming video for a new song for Still Inertia as well as a visual exhibition in April, in Philadelphia, PA, showcasing hopefully the boldest exploration of visual art in 2 years by Jason Kraley.


10.17.06 (Official Release)
"The Bootlickers Live 2006" was filmed using three cameras to capture a live performance of The Bootlickers on location at The Bikestop bar during the "Bears On Liberty Weekend 2006". If you were at the film debut (August 25-26, 2006), you had the opportunity to have these numbered editions signed by the band. These are the remaining limited numbered editions of the DVDs sold on the "Open Your Eyes" Film Debut Event (without their signatures, since each dvd was personalized during the event per customer). Regardless, this DVD is a great way to re-live the night, perhaps with less of a hangover for those that arrived a little late that night. Features John McNeill, June Bromley, Toshio Mana, Daniel Cartier, Jeremy Burton, Stacey Franklin, Dawn Marie, and Venice Cub. Main feature runs 90 minutes. Special DVD Extras include 2 fully edited and color corrected live performances of "Once More, With Feeling" and "Love Comes Back". And there is a little extra feature simply entitled "Naughty Bits".

AVAILABLE ON DVD: (More details...)


10.6.06 (New Menu Option)
The Goods is now the official online store for any multimedia for sale. Check it out in the next few weeks. The Bootlickers and a special surprise from Still Inertia are about to be released across the country.


9.17.06 (Successful Event)


Well the secret is out. The last night of the 2006 Philly Fringe Live Arts Late Night Cabaret (September 16, 2006) debuted the top secret film Kraley Products was asked to create in front of the largest audience ever for a Kraley Productions film debut. Directed and produced by Jason Kraley, the film was a mixture of sharing the daily life of a volunteer at the ticket selling Box Office during the Philly Fringe Festivals, saying goodbye to the head supervisor of 10 years (Lori Aghazarian) and turning her into the daydreaming star equivalent to the relative idea of the movie Flashdance, back in 1983. The video is set to Irene Cara's song "Flashdance...What A Feeling" and the film was shot and edited over the course of 7 days. The ensemble of staff workers, actors and actresses, and 2 choreographers made this piece come alive and had the crowd laughing and screaming all the way through. This piece was shot with one camera with massive tripod movement and edited on Final Cut Pro 4.5 HD. The video stars way too many people to list here, however the credits offer a special bonus of "outtakes" and memorable clips during the "on set" shoot. Film runs just under 8 minutes and was filmed between September 7-11, 2006.


9.5.06 (Prep Time)
Kraley Productions has been asked by the Box Office Staff of the Live Arts division of the Fringe Festival this year in Philadelphia to work on a secret filming project for the Box Office staff... and will be projected September 16th after 11pm. DJ Spooky will be DJ'ing there as well. It's all free (except for the slightly expensive beer).. so come down to the Philly Fringe Cabaret and enjoy Kraley Productions' largest single viewed showing event!


9.1.06 (Projection Appearance)
A 4-minute video projection was created for the background of a scene in "Suburban Love Songs" a delightful non-verbal presentation of a dinner party in 1968. This show runs through the 4th and is part of the Philadelphia Fringe Festival. That video collage will be compressed and made available to view in the Film/Video section later this month. Go see the show!!


8.27.06 (Successful Event)
Thank you to all those who attended the "Open Your Eyes" event. It truly was a good time had by all and I not only thank you who came to support the event, but all thank you to Stephen Keever for all his technical assistance, Sal & Robby (my official event staff), Donna (who bartended and served food at the same time), The Bootlickers (of course), Gooding (of course), Sal's On 12th (great space, wonderful atmosphere), and The Liberty Bears of Philadelphia (who surprised me with some great gifts of appreciation - that really was the best unexpected surprise of the night!) Thank you all!

8.25/26.06 (Event)






Open your eyes to the art and film work of Jason Kraley (native Cleveland artist transplant to Philly). 12 paintings (including 2 new pieces) will be on display (and for sale) on the walls of the event. The pre-release DVD debut of "The Bootlickers Live (Bears On Liberty Weekend 2006)" featuring Daniel Cartier as well as a music video premiere to the song "Sunday Morning" by Gooding will be projected at the event for your viewing and listening pleasure. Both films are produced by Jason Kraley and will start at 10pm.

OPEN YOUR EYES will be held on the second floor of SAL'S ON 12th, in Center City, Philadelphia. The floor will open at 9pm with great drink and appetizer specials. Come meet The Bootlickers and Daniel Cartier in person as they sign and sell a special set of limited editions of the DVD both nights. You can also meet The Liberty Bears and Psydde of the Delicious Boutique and Corseterie. Both Psydde and The Bears will have some great stuff for sale. Gooding CDs will be available (and some free giveaways throughout both nights) as well as some other local artists, information, special coupons and great food. ...And don't forget to say hello to Jason and the great event staff (this will mark his first self-promoted and assembled event in Philadelphia, so he'll be a little nervous).

The admission is a wonderful $3 and each evening will go until 2am with music, mingling and dancing. The drink specials for those who attend will be $3 Domestic Beers, $2 House Kamikaze's & $4 Cosmo Martini's. If you're hungry, there will be special prices on Mozzarella Sticks, Hot Wings, Chicken Tenders and Pot Stickers.

DUE TO MATURE FILM CONTENT, however, attendees must be 21+.





"Sunday Morning" was produced and edited by Jason Kraley in 2004. The song is by GOODING and appears off his 2000 album release "3X". The film was shot in the historical West Side Market in Ohio City, Cleveland, Ohio. This market is over 100 years old and Jason was fortunate enough to explore and film the entire place during closed hours. This film was shot with a single camera and edited on Adobe Premiere 6.5. Video features Julia Rodewald and is Kraley Productions first fully produced work for another person.




"The Bootlickers Live 2006" was filmed using three cameras to capture a live performance of The Bootlickers with special guest Daniel Cartier on location at The Bikestop bar during the "Bears On Liberty Weekend 2006". There will be a limited number of special autographed editions of the DVD for sale each night from The Bootlickers. It's a great way to re-live the night, perhaps with less of a hangover for those that arrived a little late that night. Features John McNeill, June Bromley, Toshio Mana, Daniel Cartier, Jeremy Burton, Stacey Franklin, Dawn Marie, and Venice Cub. This will only be the main feature, but there are DVD extras which will not be shown. Though the film was shot over the course of 3 hours (May 13, 2006), the actual creation of the 90 minute feature with over 9 hours of footage captured kept Jason Kraley busy for over 6 weeks. This feature marks the first Kraley Productions DVD project and was fully edited using Final Cut Pro 4.5.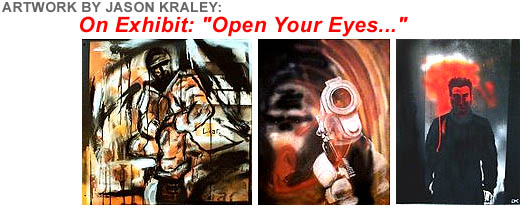 Last, but not least, there will be 12 paintings by Jason Kraley spanning 1996-2006. His last exhibit in Cleveland ("Final Days") started his latest movement towards incorporating other mediums with his oil paintings, including spray paint, charcoal and oil pastels. Though most of the new paintings sold fast during "Final Days", there are a few left that were shipped from Cleveland and will be available during the event. There will also be two extremely new pieces that will be on display (and for sale). They mark the first paintings completed in Philadelphia. So open your eyes and enjoy all there is to see and experience throughout the night.

This entire event was created in the spirit of art and community.